by Mahnaz Asif, Rollins College Mental Health Counseling Graduate Student and VSC Social Justice Intern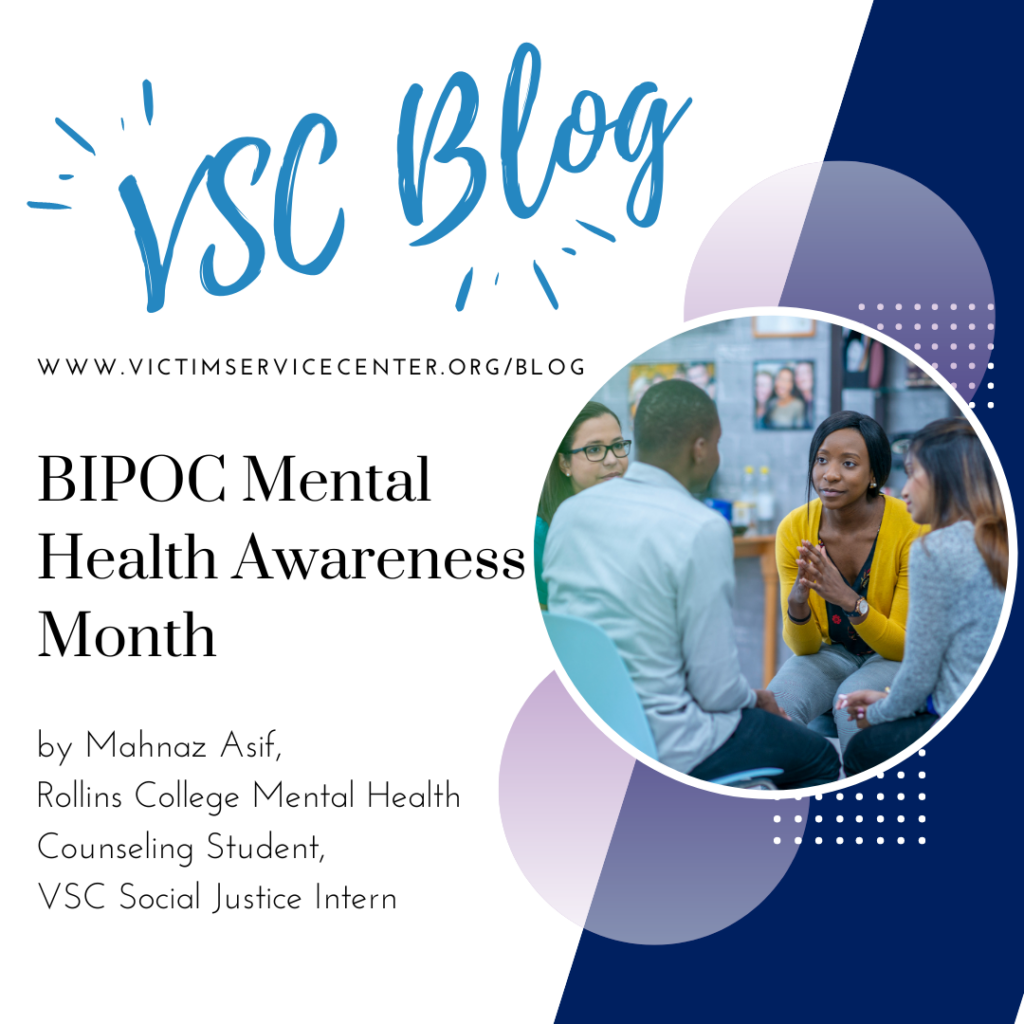 Bebe Moore Campbell founded the formally known National Minority Mental Health Awareness Month; it was created to bring awareness to the mental health struggles of underrepresented populations in the United States. Bebe began her journey when her daughter had a mental illness, and the system prevented her from getting the help she needed. The language "minority" created controversy among the community, and so recently the month was renamed to Blacks, Indigenous People, and People of Color (BIPOC) Mental Health Awareness Month. The term highlights the mental health challenges of oppressed racial and ethnic groups in the United States. Black, Indigenous People, People of Color continue to experience a wide range of discrimination, oppression, and inequality entrenched in the history and systems of America as well as intergenerational trauma from the centuries of abuse. Furthermore, cultural incompetence of health care providers likely contributes to underdiagnosis and/or misdiagnosis of mental illness in BIPOC leading to lack of sufficient mental health care.
BIPOC emphasizes that not all People of Color have the same experience, especially when it comes to legislation and systemic oppression. Respectively it separates the two essential groups, Black and Indigenous People, to explain the specific injustices experienced by those two populations, and other people of color may not have necessarily experienced when it comes to systemic racism and oppression. BIPOC wants to phase out the term "one size fits all" language especially in race, power, and privilege. It is imperative to use language (abbreviations and acronyms) that are respectful and precise and not intended to show prejudice. At the same time, adapting to the ways, people describe themselves and their communities.
Strength in Communities is the theme for year 2021. It focuses on BIPOC queer and transgender (QTBIPOC) people. BIPOC and QTBIPOC have developed system supports to fill the gaps within the oppressive world of the healthcare system. The support system is in community care, self-directed care, cultural care. Strength in Communities explains that these types of care are vital for their mental health.
For more information about BIPOC Mental Health Awareness Month as well as resources please visit https://mhanational.org/.
If you need mental health crisis support Text HOME to 741741 to connect with a crisis counselor from Crisis Text Line. VSC's 24/7 crisis helpline is always available to those in Central Florida who have experienced a crime, trauma, or sexual assault and need immediate assistance.
There are multiple suicide hotlines as well as warmlines for those who just need support. Visit here for Central Florida specific resources: https://www.mhacf.org/community-crisis-suicide-services/
For warmlines by area visit the list here: https://screening.mhanational.org/content/need-talk-someone-warmlines/