by Megan Asmussen, Rollins College Mental Health Counseling Student, VSC Social Justice Intern
Trigger Warning: This blog post discusses the connection between Suicide and Survivors of Sexual Violence and discusses both topics throughout this post.
In light of the completed suicides of both Daisy and Melinda Coleman, we want to recognize the deep complexities and impact that trauma can have on an individual and their support systems. We created this content prior to the news of the passing of Melinda. However, we want to recognize how this news could inform this content. If you need additional support please reach out to the Suicide Prevention Lifeline at 800-273-8255 or Victim Service Center at 407-500-HEAL (4325).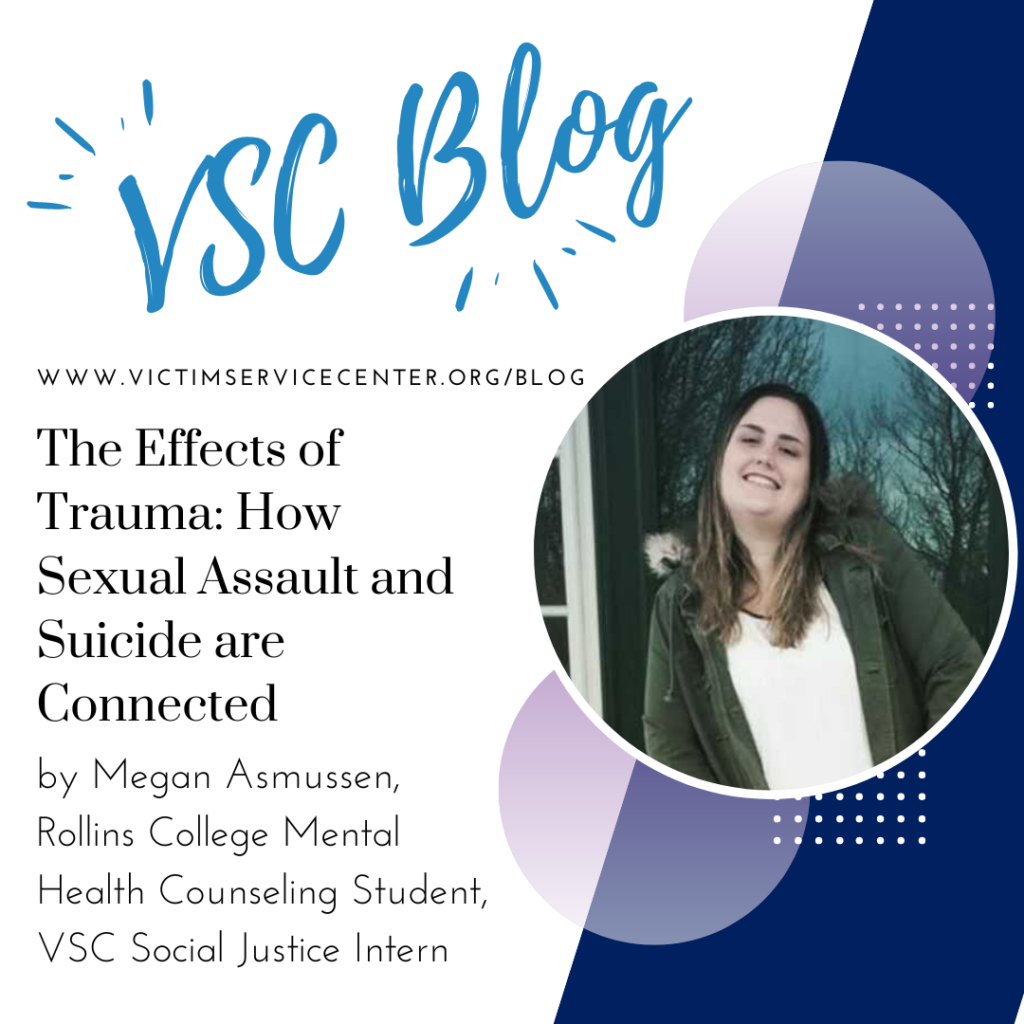 Hi there readers! Before we get started, I wanted to do a check in to make sure that you are doing okay. Reading the content in the VSC blogs can be very trying, and I am so proud of you for wanting to take control of what you can and learn more about sexual and otherwise violent crimes. This resource is specifically made for survivors to learn more about sexual violence and suicidality, but there will be a resource coming soon that is written for those who are part of the support systems.
With this being said, I invite survivors to stay present and aware of the sensations that come up for you while learning more about this topic. It can be very anxiety provoking to get through this article. If you find yourself feeling panic, tightness of chest, loss of breath, racing heart rate, or other signs of a panic attack, please refer to the following resources: the National Suicide Prevention Lifeline at 800-273-8255, utilize the chatline by texting HOME to 741741, or call the Victim Service Center's helpline at 407-500-HEAL (4325). All of these resources are available 24/7.
What is the connection between sexual trauma and suicidality?
Research has shown that survivors of sexual violence are more likely to be diagnosed with disorders like Major Depressive Disorder and Post Traumatic Stress Disorder. Both of these diagnoses are two that have the most impact on stress and anxiety, only falling short to the anxiety disorders. When there is a presence of severe stress and anxiety, it is much easier to experience intrusive suicidal thoughts and contemplation of suicide. According to statistics, over ⅓ of women who have experienced sexual trauma have thought about suicide.
Important note: If you are experiencing levels of stress and anxiety that feel unmanageable, you can meet with either a VSC or external counselor to get support. The presence of stress and anxiety does not always lead to suicidal thoughts and ideation, but it creates more of a risk factor.
What is the difference between passive and active suicidal ideation?
Passive Suicidal Ideation is when you are thinking about suicide or self harm, but you do not have a plan to complete the act.
Example: Having intrusive, unwanted thoughts about killing or harming yourself with prescription medication, but not having the medication or a plan to buy medication.
Active Suicidal Ideation is when you are thinking about suicide or self harm, and you do have the plan to complete the act.
Example: Thinking about killing or harming yourself with prescription medication, having the medication, and planning to take them at 6:00 pm after work on Friday.
*If you have active suicidal ideation, please call an emergency hotline or 911.*
What are intrusive thoughts and how are they connected to suicidal thoughts?
The most present mental symptom connected to suicidal thoughts is the intrusive thought. No matter where you are emotionally, your brain will give you many thoughts throughout the day, and most of them are ignored. Intrusive thoughts is the static that your brain gives you that is harsh enough to make you aware and oftentimes scared or angry at what is being brought up to the surface. An example of an intrusive thought is thinking, "Oh there is a bridge! I wonder what would happen if I drove off of it." Scary, right? When these thoughts come up, oftentimes we do anything and everything to alleviate these icky feelings and get rid of the thought. What if I told you that doing that only makes your brain happy, and therefore causes more thoughts to come? Your brain loves the feeling of solving the problem and coming back to safety, so it wants to recreate this sensation.
Here's a video to explain more: https://www.youtube.com/watch?v=laeYq51SYA0
It is very important to note that if you feel great fear and anxiety from these thoughts, it means that you want the opposite to happen. Oftentimes people can find great comfort in knowing this because it shows that the action behind the thought will most likely not happen.
What are the warning signs of active suicidal ideation?
There are many different signs of active suicidal ideation. Here are some of them:
Feeling as though everything is hopeless/doesn't have meaning
Experiencing significant changes in eating and sleeping habits (not wanting to get out of bed)
Feeling alone and isolated
Having suicidal thoughts
What should I do if I'm thinking about killing myself?
The most important thing to do in a suicidal crisis to either call an emergency hotline, go to an emergency facility, whether that be the hospital or a mental health agency you trust, or call 911. Here are some more things you can do during the process:
Reach out to a mental health professional you trust
Find ways to empower yourself
Recognize an emergency: are you or someone else in immediate harm?
Know where to go

Victim Service Center: 407-500-HEAL (4325)
The hospital (911)
A mental health agency you are familiar with

Seek support from these resources
What can I do to take care of myself?
Whether it be before, during, or after both the violent experience and/or suicidal ideation, there are many different ways that you can take care of yourself. Let's look at some questions through two different lenses: physical and emotional.
Physical examples
What does your sleep schedule look like? What can you do to help get back into a steady sleep pattern and feel more rested?
What kind of food are you putting into your body? What food helps you feel capable of taking on the day?
Is there any kind of movement that you enjoy? What activities can you do to help feed your soul?
How can you reset your routine? How might your routine look different with the unique circumstances in this moment? What can you do to start and/or end your day on a good note?
Emotional examples
What do you like to do for fun? What do you have to look forward to?
Do you like to journal? What words inspire you today?

Note: journaling does not have to be a novel of all of the day's activities. It can be as simple as writing a mantra or three things you're grateful for today.

Do you have a spiritual practice that brings you joy? What do you do to relax and rejuvenate?
Who are people that can reach out to, that you trust? What are some ways you can be with them?
Where is a special place you can go, whether it's alone or with others, that helps you feel comfortable and grounded?
Through answering these questions, you can create a self-care routine that is best suited for your unique experience!
As always, you can utilize the FREE Victim Service Center counseling resources by calling 407-500-HEAL (4325) for crisis support. VSC has many great counselors who can provide psychotherapy, support regarding medical and legal procedures, and more all for free to those who have experienced sexual assault and other forms of violence. We also have referrals that can be made to help give you the best care for your unique circumstance.
Never forget: you are worthy of the happiness and peace of mind that you seek. You and your mental health deserves to be a priority no matter what. You may be experiencing extremely difficult emotions during this trying time, but you are also strong and resilient. You will get through this!