Denim Day is an international protest responding to the Italian Supreme Court's overruling of a rape conviction in the 1990's. Although the assailant had been found guilty at the trial, the Supreme Court argued that because jeans are difficult to remove, the assailant couldn't have done so without the help of the victim. To honor victims of sexual assault on the last Wednesday in April Victim Service Center champions #DenimDay in Central Florida. We encourage local business, organizations, schools, and individuals to wear jeans.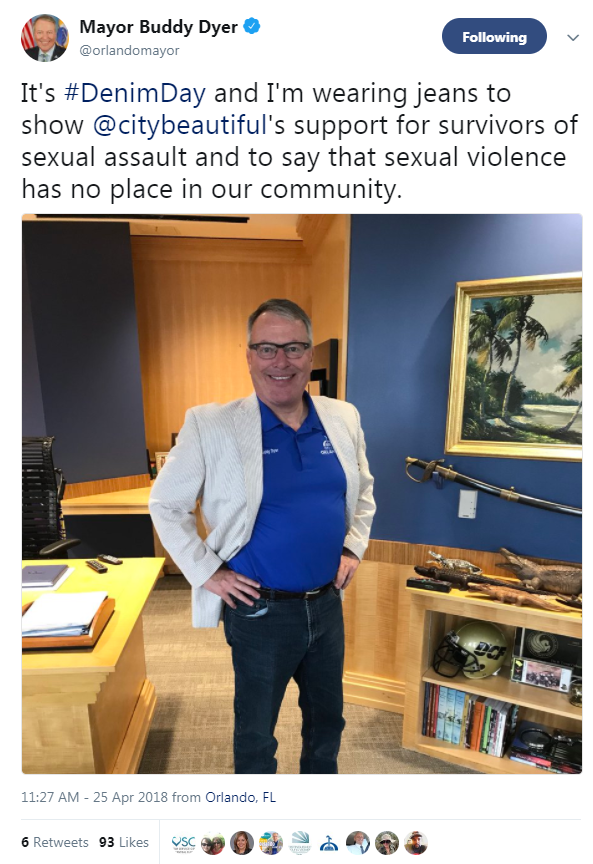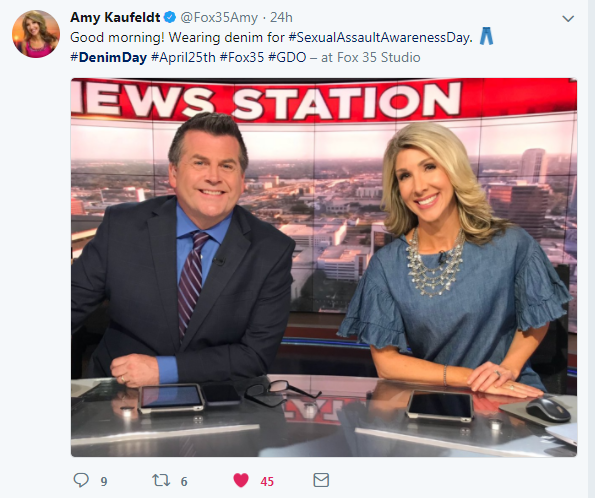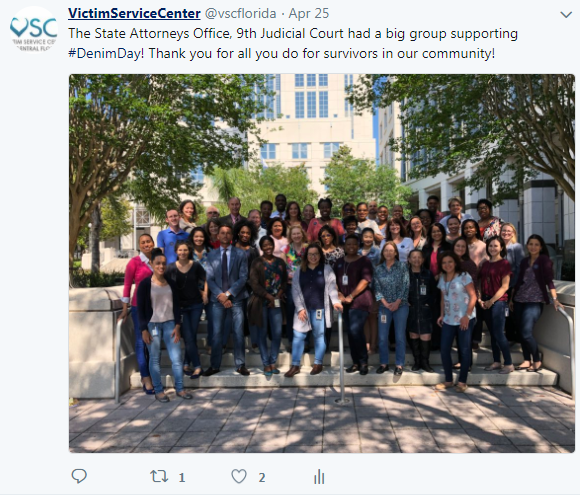 Why participate?
To promote discussion of the misconceptions that surround sexual violence.
Let survivors know we believe them.
To show our community that we do not stand for sexual violence.
How can I participate?
Register! We want to know the impact of how many people in this community are standing with us against sexual violence! Plus, we will mail you materials when you register!
Hang up a flyer in your office. This connects people with the movement and helps start a conversation.
Wear denim! Then take a picture of yourself and post it on social media with #DenimDay and tag us @VSCFlorida (IG, FG, Twitter, TikTok) and we will be sure to share or retweet you. We want to make sure our reach on social media that day goes far and wide!
Go virtual! Download your very own Denim Day and Sexual Assault Awareness Month virtual backgrounds to use all April and SAAM.
SPREAD THE WORD! The more people we can reach on Denim Day the bigger our impact! The more people know about the harm of victim blaming the better, and maybe we can make a survivor feel less alone. Help us spread the word by using our virtual backgrounds, hanging up flyers, and by posting on your own social leading up to Denim Day. Check out our social media tool kit for graphics you can post in various sizes and templates for interactive IG/FG stories.
Are you an employer? Charge your employees to wear jeans on the last Wednesday of April and donate the proceeds to Victim Service Center of Central Florida to help us continue our mission to provide free and confidential services to all victims in the community.
Host a donation drive for new items with tags to benefit a victim of sexual assault. VSC provides everyone who receives a forensic exam from one of our confidential exam locations brand new clothing and flip flops to go home in because all of their items are taken into evidence as part of the exam process. Help make that experience a little easier by providing new items for their comfort.
Make a personal donation to VSC and share with someone else why you think our mission is so critical to preventing sexual violence in the community.
This April be on the lookout for #DenimDay and more ways that you can become involved and join the movement to let all of Central Florida that together we can prevent sexual violence.