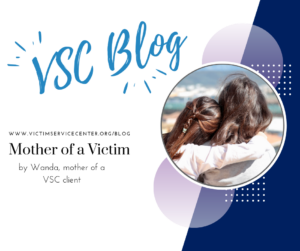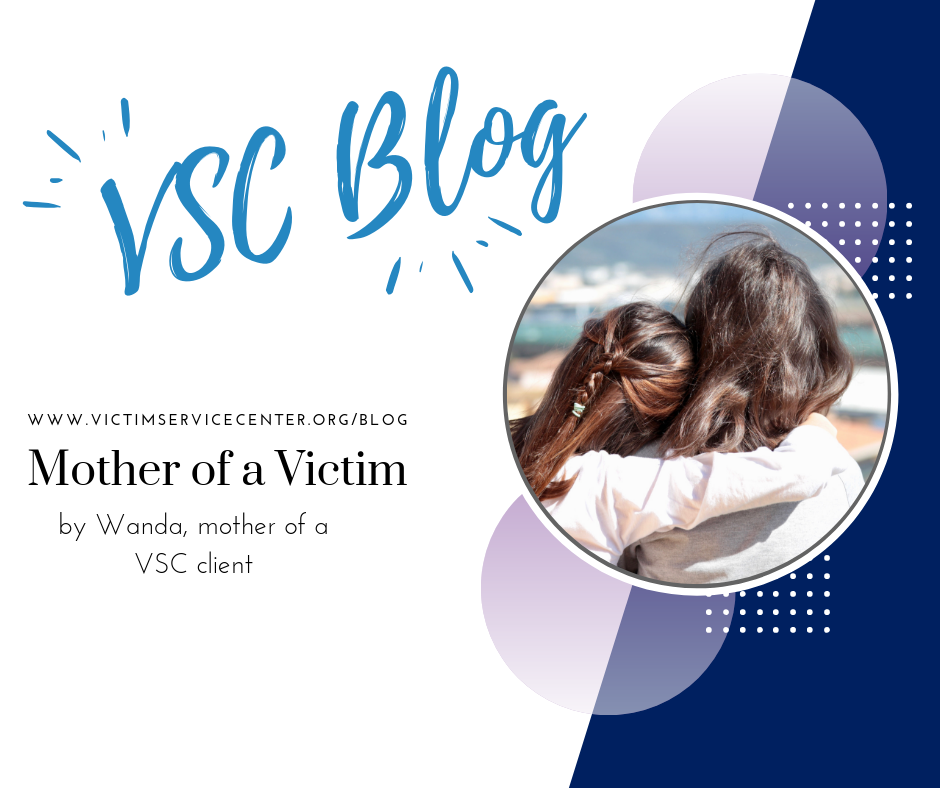 by Wanda, Mother of a VSC client
When my daughter was little, whenever she was afflicted by illness or injury, my heart would grieve because I could not bear her suffering.
Broken bones and sky-high fevers could not have prepared me for that dark day in September when the torment of not being able to alleviate my child's pain escalated to a whole new level.
Her frantic call woke me out of my slumber.  Raped…called 911…come get me.
Two agonizing weeks later, after being subjected to a sexual assault forensic exam, law enforcement reports, interviews with sex crimes investigators and controlled calls, an arrest was made.
After twenty-two months, several meetings with the prosecution team and court liaison, the trial was set to begin.  The perpetrator doubled over in court, puked on his shoes and took the plea deal.  Five-years of probation included a no-contact order, banishing him from being in Orange County for any reason other than passing through to his day job.
Beyond those first twenty-two months were the violations of probation, three attempts for early termination of probation, and three appearances in civil court seeking an Injunction for protection once the perpetrator was no longer under supervision.
That is the "CliffsNotes" version.
The bias my daughter suffered as a sex crime victim resulted in betrayal and derision.
The rape was not reported and she was given a false case number. The responding deputy suggested she just call a friend to pick her up, saying "you don't want your mom to see you like this."  A commanding officer accused her of being a liar.  "You better not be lying because you're embarrassed to tell your mom you had sex".  So-called friends wanted her to just drop the case so they didn't have to be deposed.  "This happened to us, they aren't going to do anything about it." Older sisters passed judgment because there was a party and alcohol involved (as though they never partied at the age of 20).  Law enforcement did not uphold the no-contact order when probation was violated.  The officer, when she needed to file a report for violation of probation, dismissed my daughter by opening with "Ex-boyfriend?  You kinda mad at him?"  A judge refused to send the probation violator to jail despite witness testimony.  Civil Court clerks assumed my daughter knew the person who violated her, putting the burden of furnishing his address on her shoulders.  "How are we supposed to serve him if we don't have an address?"  Yet refused to allow the prosecutor's office to provide exactly what they needed over the phone.
Woven into the legal tapestry was the emotional torment my daughter endured for six arduous years as a victim of a sex crime.  In addition to trying to heal and banish the nightmares, she was fraught with anxiety for days leading up to court appearances where she was forced to see the pathetic weasel who cowardly stole her sense of peace and security. The shocking encounters in the courthouse parking garage, on courthouse elevators, and in the courthouse security line opened the wound and poured gasoline on an already strained peace of mind.
As her mom, I will never forget seeing my daughter hyperventilate when she had to see the rapist in court time and time again.  I will never forget the guilt I felt resorting to anger to get her out of seclusion and into counseling, so she could keep pressing on.  I will never forget the incredulous frustration when the rapist was treated better than my daughter by a judge.  I will never forget the look of compassion in her eyes when I finally admitted to her that I was living through her vicariously.  I wanted her to forge ahead to receive the justice she deserved because I never had my day in court.
I didn't want her to be engulfed in unshakable rage, decades later, because he wasn't punished for the suffering he caused, making her the victim all over again.
I will forever be grateful to the sex crimes prosecution team and the Victims Service Center who worked tirelessly on our behalf, devoting their careers to gut-wrenching work supporting victims of despicable crimes.
I know beyond a shadow of a doubt, every victim needs an advocate.
As the mom of a sex crimes victim, I witnessed the exorbitant toll that the quest for Justice can enact, but it was beyond worth it.
Today, my daughter can forever know that she stood up to the monster.  She stood up for her rights.  She unknowingly stepped up for victims who couldn't stand up for themselves.
Decades later, while there will still be rage, it will be abated by the grim satisfaction that our struggle pushed the cog of justice just one click further because no victim deserves to be discounted in silence.
The Victim Service Center is there 24/7 for victims of sexual violence, as well as secondary victims, such as a mothers, on their crisis helpline (407) 500-HEAL. VSC offers free and confidential counseling, therapy, advocacy, court accompaniment, closed and open group therapy sessions, and other things that a person may need on their healing journey. If you'd like to make an appointment at the Victim Service Center, please call the office line at (407) 254-9415 during business hours.