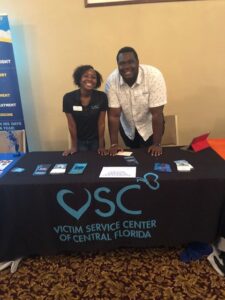 Thank you for your interest in volunteering with VSC and your commitment to those we serve! We would not be able to do what we do without the time and effort of our volunteers.
Volunteering with the Victim Service Center of Central Florida provides an opportunity to become an active part of the movement to end violence. Our volunteers help assist and support our teams so that we are able to provide the best services possible to our clients and the community. Please note, volunteers are not permitted to give direct client care at this time. We do not offer court-mandated community service hours. 
Every member of the VSC team is valuable and all of our volunteers' time, talents, and efforts are special gifts that are to be appreciated, respected, recognized, and never taken for granted. Volunteers provide our organization with credibility, insight, perspective, diversity, and expertise that enlightens our operations, helps fulfill our mission, and engages the community in our activities.
Are you ready to give back to those in need? We invite you to join our team!
Requirements

Be 18 years or older.
Have good, polite, and consistent communication skills online and in-person.
Be comfortable speaking to victims of sexual violence and crime violence and subjects surrounding these topics.
Complete and pass a level 2 background screening, in which the volunteer is responsible for the $65-$70 fee.
Complete the 30 hour online Advocacy Core Training (ACT). Additional ongoing training is required with continued service.
Provide a minimum of 10 hours of service per month (shift scheduling is flexible) to be an active volunteer.
If a former client of VSC, your case must have been closed for at least two years prior to volunteering. Current clients are not eligible for volunteering at this time.
Steps to becoming a volunteer
You're on the right track! All steps below must be completed and can take 4-8 weeks. In order to volunteer with VSC, please:
Complete the online no obligation Volunteer Application.

The online application will take approximately 15-30 minutes to complete. Please complete each section of the application fully. Completing the application does not require you to continue with the volunteer process.

Attend a Lunch and Learn – find out more about who we are at these monthly sessions. They are offered on the second Wednesday of every month from noon – 1 p.m. and are open to the general public as well. You can sign up here. If you are unable to attend a Lunch and Learn, please contact the Volunteer Coordinator.
Complete a phone interview.

Following the Lunch & Learn, you will be contacted to schedule a 15-3o minute phone interview with the Volunteer Coordinator in order for us to learn about you, your experience, your goals, and to determine eligibility.

Complete and pass a level 2 background screening.

Following successful completion of the phone interview, we require a favorable level 2 background screening at your own cost of $65-$70. You will be sent the details of the specific place to be screened. Previous background screenings will not be accepted. *Volunteering with VSC is contingent on a favorable level 2 background screening.*

Complete the 30 hour free online Advocacy Core Training (ACT).

Upon completion of the background screening, you will be registered for the 30 hour online ACT training. This training is provided by Florida Council Against Sexual Violence and is required for all volunteers interacting with survivors of sexual violence. The ACT training may be completed at your own convenience, but we recommend you complete it in a maximum of 6 weeks. Opportunities to complete this training online in office are offered but not required.

Attend an in-office orientation.

During the 3-4 hour in-office orientation, you and the Volunteer Coordinator will go into detail about volunteer opportunities, meet staff, review VSC's policies & procedures, review job descriptions, review role-play scenarios from ACT training,  and answer any questions you may have.
PLEASE NOTE THE VOLUNTEER APPLICATION FORM WORKS BEST WITH CHROME. 
The Victim Service Center of Central Florida does not discriminate in recruiting, hiring, assignment, training, promotion or termination of staff and volunteers, selection of members of the governing board, nor the provision of services based on race, color, religion, disability, pregnancy, national origin, sexual orientation, sex/gender, gender identity, gender expression, genetic information, age, ethnicity, income, veteran status, marital status, or any other factor prohibited by federal, state or local laws, rules and regulations (collectively referred to as "Protected Status").
This project was supported by Grant No. 2016-KF-AX-0045 awarded by the Office on Violence Against Women, U.S. Department of Justice. The opinions, findings, conclusions, and recommendations expressed in this publication/ program/exhibition are those of the author(s) and do not necessarily reflect the views of the Department of Justice, Office on Violence Against Women, the Department of Health, or the Florida Council Against Sexual Violence.