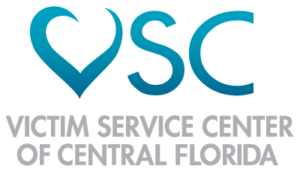 Thank you for your contribution!
Your generous donation will be used to continue the critical programs that support survivors of crime throughout Central Florida. If you have any questions or need assistance, please call us at (407)254-9415. Again, we thank you!
Your gift is tax deductible as allowed by law. A COPY OF THE OFFICIAL REGISTRATION AND FINANCIAL INFORMATION MAY BE OBTAINED FROM THE DIVISION OF CONSUMER SERVICES BY CALLING TOLL-FREE (800-435-7352) WITHIN THE STATE. REGISTRATION DOES NOT IMPLY ENDORSEMENT, APPROVAL, OR RECOMMENDATION BY THE STATE. Victim Service Center is registered with the state under the Solicitation of Contributions Act, 1992 under Federal Tax Identification Number 75-2978885. The toll-free number for the Division of Consumer Services is 1-800-HELP-FLA (435-7352) or visit the website at   https://csapp.800helpfla.com/cspublicapp.