by Kati Chavez, VSC Speaker's Bureau Member & Volunteer
Trigger Warning: This blog discusses sensitive topics such as sexual assault. It's important to take care of yourself while reading. Some suggestions are reading while you're in a healthy headspace or knowing who you can reach out to if you become upset. Our 24/7 Helpline for crisis calls based out of Central Florida is 407-500-HEAL (4325). To get additional support and/or learn about your local resources, the National Hotline can be contacted at 1-800-656-4673.
There is always someone ready to help.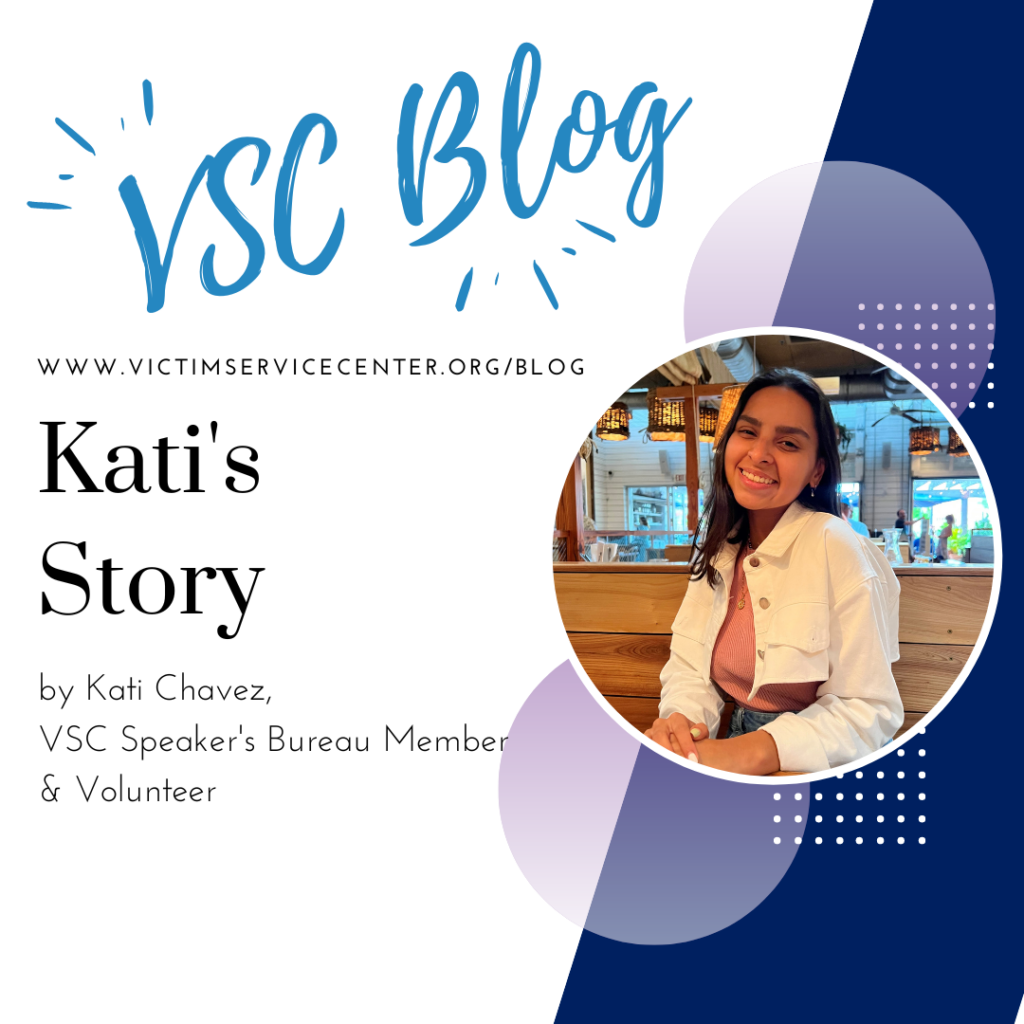 "I perfectly remember the day my mind completely unlocked everything. I was on the bus with a friend, and he began to tell me how in his class they were doing some speeches and one of his classmates told him she was a victim of sexual violence. At that moment I was shocked, and I kept asking my friend how he started telling it, what she said, and repeated the same questions while my mind only wondered how she could tell it to an entire room, and I didn't even tell it to myself. I can tell myself.
We arrived at his house, and we kept talking about it. At one point I told him it's crazy how it happens to the people you least expect. There was a silence and he asked me, "Has it happened to you?" My eyes just watered, and I said yes. After that day my mind couldn't block those memories again. In my mind I only imagined myself telling my parents, but it was something I really couldn't do; until one day I just had a very big impulse in my heart and there was something that told me to grab my phone and record a video telling my story. I had that video saved for a week because I didn't have the courage to do it.
One morning I just posted it. Yes, I thought of my parents and my whole family. I knew it wasn't going to be easy for them, mostly if they were going to hear it from an Instagram video. But only those who have been through this understand that talking about it is not that easy, and even less so with the people who love you not because you don't trust them, but because you don't want to see the pain in their eyes. It was the only way I felt comfortable telling my story and I had to put myself first. It is my story and I decide how to tell it, there is no right way or place to do it. I only decide on it and as long as I felt comfortable, it was the only thing I needed. I never imagined that so many people would write to me privately thanking me for that video, that thanks to my video they didn't feel alone, people told me about their stories for the first time and the most beautiful thing was when they told me that thanks to my video, they gained the motivation to tell their story for the first time.
From that day on, I felt like I was shouting to the world what had happened to me, that for the first time I was heard, and I had the support that I would have liked to have at the time that everything was happening. I never talked about it because I was a child and I didn't understand what was happening to me, I was just too innocent. I knew that what was happening was not normal, but between emotions of fear and confusion, I preferred to remain silent. I grew up and understood, but my mind preferred to block it. Thanks to the girl who told her story in my friend's class I told mine.
My whole life changed completely. Even though I told my story and was able to lift a weight that I had been carrying alone for a long time, I realized that there were still many things that I had to heal. I decided to go to the psychologist and help myself. As Chanel Miller says in her book Know my name "The journey will be longer than you imagined, the trauma will find you again and again. Don't become the ones who hurt you. Stay tender with your power. Never fight to hurt, fight to rise. Fight because you know that in this life you deserve security, joy, and freedom. Fight because it is your life. Not from anyone else. I did it, I'm here." (Miller 332). It was a long and difficult process. I had a lot of emotions and anxiety was like my best friend. But little by little I felt stronger. I no longer felt so lost, I stopped doing things that at some point I thought fulfilled me and started doing things that really did. I was filled with dreams; I wanted to learn more about the issue of sexual violence. At some point in my life I found an organization that supports survivors of sexual abuse and I decided that I wanted to be a motivational speaker not only to tell my story but to educate people of sexual violence that happens more than we think, and above all to let people who have gone through this know that they are not alone and that there is a way to heal. Thanks to this situation I wanted to get closer to God, he was the one who really helped me heal and forgive, to understand that what happened to me does not define who I am. I understood that my purpose in this life is to help people see that there is a way out of this deep dark hole and that life is much more beautiful than we think. Every story is different, and every process is different, but it's still just as important. It's something that will always be there, but with the right tools, you learn to live with it. As I always say, even though they invaded the most precious thing "Your body and Soul", they did not manage to steal your essence."
If you or a loved one have experienced sexual violence, you can call our 24/7 Crisis Line 407-500-HEAL (4325) for immediate crisis intervention, or call our main line 407-254-9415 to set up an appointment for services.